— C2MI: CONVENIENTLY LOCATED IN CANADA —
Canada ranked fist among the 10 countries compared, with total tax cost 47,6% lower than the United States.
COMPETITIVE RESULTS
This report is a supplement to the 2016 edition of Competitive Alternatives, KPMG's guide to international business location costs. This report assesses the general tax competitiveness of 1111 cities in 10 countries. Based on the special report, Focus on Tax, we highlighted the fields that were unique to C2MI.

SIGNIFICANT TAX INCENTIVES MADE CANADA THE MOST TAX COMPETITIVE IN THE DIGITAL SERVICES AND R&D SECTORS.¹
RESULTS BY COUNTRY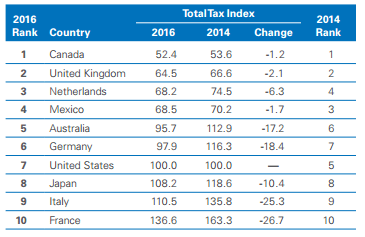 CANADA, THE UNITED KINGDOM, THE NETHERLANDS AND MEXICO ALL HAVE PARTICULARLY LOW TTI RATINGS, AT LESS THAN 70, REFLECTING THE EFFECT OF SIGNIFICANT R&D INCENTIVES IN THOSE COUNTRIES.¹
MONTREAL IS ONE OF THE TOP 10 TAX COMPETITVE  AMONG MAJOR INTERNATIONAL CITIES.¹

RESULTS FOR MAJOR CITIES
THE CITY OF MONTREAL COMES IN FOURTH POSITION WITH A 57,4 IFFG. THE RESULTS FOR THE MAJOR INTERNATIONAL CITIES ARE GENERALLY VERY CONSISTENT WITH THE NATIONAL RESULTS FOR R&D.¹

CANADA RANKS SECOND IN THE MANUFACTURING COST INDEX.¹
IMPACT OF TAX COMPONENTS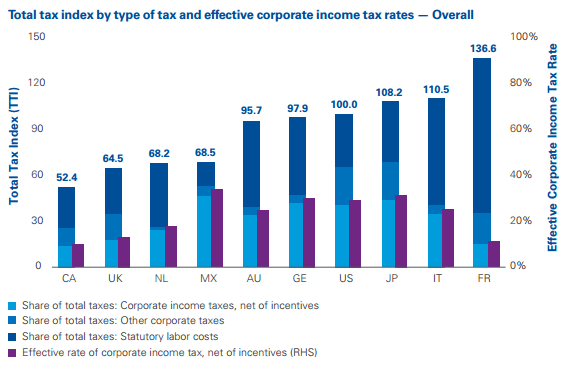 CANADA OFFERS FEDERAL INCOME TAX CREDITS FOR R&D. THE RATES FOR THESE CREDITS WERE EQUAL 15% OF TOTAL CURRENT R&D EXPENDITURES.¹
CANADA ALSO RANKS FIRST AMONG THE MOST TAX-EFFICENT COUNTRIES IN TERMS OF BUSINESS SERVICES AND MANUFACTURING.¹

LABOR COST COMPARISON
THE TABLE COMPARES COUNTRIES IN TERMS OF SALARIES AND WAGES, STATUTORY PLANS, AND OTHER EMPLOYEE BENEFITS. AGAIN, CANADA IS VERY WELL POSITIONED.¹