REINVENTING INNOVATION
C2MI promotes strong links between the academic and industrial sectors, two spheres that interact and collaborate for the advancement and development of next-generation prototypes.
Three words define C2MI :
The C2MI is an international reference in the fields of advanced packaging and microsystems. It is the fundamental link between applied research and the rapid commercialization of microelectronic products.
Collaboration and synergy among all parties, resulting in the rapid commercialization of value-added products
POSITIONING
The C2MI is an international beacon in advanced packaging and microsystems. As a Centre of Excellence, its goal is to allow its members to foster the growth of the microelectronics industry through the accelerated commercialization of market-driven prototypes.
Active and seamless collaboration and synergy among the Center's members enables the rapid commercialization of next-generation prototypes.
INFRASTRUCTURE AND FACILITIES
Now fully operational, C2MI is a world-class Innovation Center situated in the Northeastern microelectronic corridor where major investments have been made in recent years.
EQUIPMENT
The Center's strengths are based on a unique combination of highly qualified, onsite researchers, leading edge equipment, and a unique infrastructure.
The 135M$ fleet of equipment is composed of state-of-the-art technologies in the following fields :
– MICRO-ELECTROMECHANIAL SYSTEMS (MEMS)
– ADVANCED PACKAGING
– TESTING AND INSPECTIONS
– RELIABILITY TESTING
– DEVICE CHARACTERIZATION AND FAILURE
ANALYSIS
INTELLECTUAL PROPERTY

A Scientific Commitee must approve projets before they are initiated.
Joint development agreements must be created when two or more members work together on an intellectual property.
Collaboration researchers and students are required to present their thesis within standard time frames.

Should the project scope fall outside the market segment of the interested parties, intellectual property rights are transferred to those interested in commercialization.
LOCATION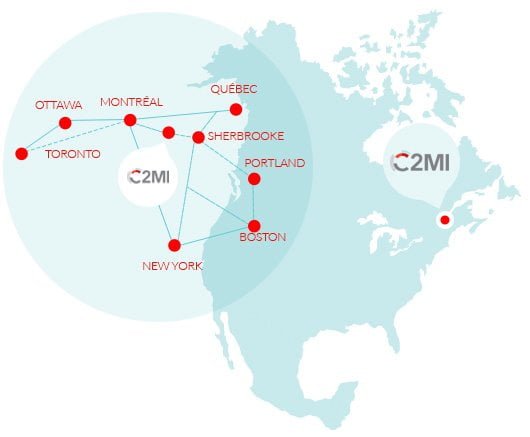 THE NORTHEAST CORRIDOR
C2MI is conveniently located in the heart of North America's Northeast Corridor, where numerous global industry leaders have invest billions of dollars in microelectronics over the past few years.