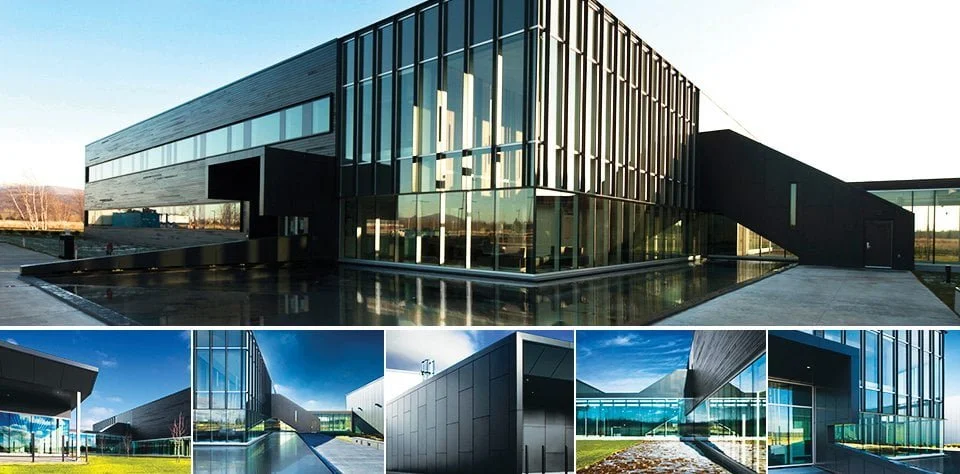 — UNIQUE IN THE WORLD —
Since the beginning of its activities, C2MI welcomes industry leaders in its cutting-edge facilities where R&D is performed to accelerate the commercialization of their innovative microelectronic prototypes.
HISTORY
2009
The MiQro Collaborative Centre was annouced after obtaining a $218M grant from the Ministère du Développement économique, de l'Innovation et de l'Exportation (MDEIE) ($94,9M), Industry Canada ($82,95M) and several privates partners (Université de Sherbrooke, IBM Canada Ltd and Teledyne DALSA) and several equipment partners as part of Canada's Knowledge Infrastructure Program.
2010
Construction of this state-of-art technology Centre was launched in 2010. During the same year, C2MI is recognized as a Centre of Excellence for Commercialization and Research (CECR) by the Networks of Centres of Excellence of Canada (NCE), obtaining an additional funding of $14.1M over a 5 years period.
2011
Construction of C2MI ends in the fall and the team began its operations on November 1st.
2012
In July, C2MI is officially opened. The Prime Minister of Quebec, Jean Charest, the Hon. Christian Paradis, federal Minister of Public Works and Government Services; the Minister of Economic Development, Innovation and Export Trade, Clément Gignac; and Brome-MIssisquoi MNA Pierre Paradis announced funding to the Université de Sherbrooke as part of the Knowledge Infrastructure Program, to build a centre for innovation in microelectronics.
2013
C2MI won the award for excellence in architecture in the category "Industrial building". The project was carried out by the firm MENKES SHOONER DAGENAIS LETOURNEUX Architects (MSDL). During this same year, the C2MI held its first annual Symposium.
2014
The Université de Sherbrooke has joined with IBM Canada Ltd. in a unique business/university partnership by launching the NSERC/IBM Canada Industrial Research Chair in Smarter Microelectronics Packaging for Performance Scaling. Its objective is to develop several new approaches ranging from robust industrial manufacturing processes to the development of new materials that increase the resistance and reliability of electronic components.
2015
In July 2015, C2MI receives additional funding from the Government of Canada following the 2016 Centers of Excellence for Commercialization and Research (CECR) Competition. This investment of $ 8 million over five years confirms C2MI's role with Canadian companies conducting research and development of electronic systems to accelerate the commercialization of new products.