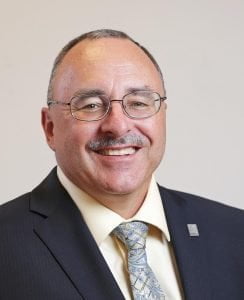 ---
In April 2013, Mr. Charbonneau took the position of Associate Vice-President, Research at the University of Ottawa. In a highly decentralized environment involving multiple participants, the OVPR provides leadership and expertise for the University-wide strategic policy, direction and operation of its services in support of its research activities. This includes leading and coordinating different autonomous functional teams, at both central and Faculty levels, to assure a consistent and responsive organization.
Mr. Charbonneau received his B. Sc. And M.Sc. in Physics from the University of Ottawa and his Ph.D. degree in Photonics – Semiconductor Physics from Simon Fraser University, British Columbia in 1988. He joined the Institute for Microstructural Sciences of the National Research Council (NRC) in October 1988.
For a period of 10 years, he was involved in a number of research activities within the institute and led such development programs as wavelength routing and switching for optical fibre communication systems and more exploratory research efforts in the field nano-photonics. He has published over 180 papers and has seventeen patents granted or pending the field of photonics, nanotechnology and ICT.