Business profile
Service offering
CIMEQ is a non-profit organization (NPO) and a College Center for Transfer of Technologies (CCTT). It is also part of a network ("Réseau Trans-Tech") grouping 46 specialized centers distributed throughout Quebec.
Established in 1983, CIMEQ was formerly known as CETSO and is affiliated to Lionel-Groulx College. CIMEQ has a measure of autonomy enabling it to decide its own specific mission and development strategy in the fields of applied research and microelectronics.
Mission
CIMEQ is the College Center for Transfer of Technologies (CCTT) in the microelectronics sector. Common to all CCTT, its mission is to support agencies, institutions, businesses and more particularly SMES in technical support innovation, applied research, information and training.
CIMEQ has the distinctive mission to support, through networking and state-of-the art technology, businesses in Quebec interested to innovate and to position themselves in the fields of electronics and microelectronics, all the while participating in the expansion of the electronics and microelectronics industries.
Competence
The CIMEQ has expertise in analog electronics, high power electronics, electromagnetic compatibility, electrical engineering, embedded systems and more. In addition, the working on CIMEQ microelectronics and software design and the schematic design.
The ONBL has several technologies and processes such as printed circuit prototype and preproduction embedded system, microprocessor, technology transfer, intelligent building: distributed control system and smart energy efficiency. (Envirotique®)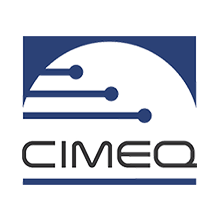 CIMEQ
150, rue Duquet
Sainte-Thérèse, Quebec
Canada, J7E 5B3
450 971-7820
---
Contact person
Michel Chabot
Interrim General Manager
450-971-7820 ext 542
mchabot@cimeq.qc.ca