PACKAGING ASSEMBLY LABORATORY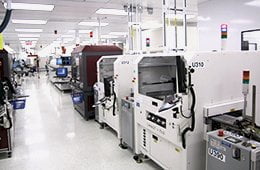 C2MI offers a wide range of equipment to conduct the advanced packaging of semiconductors as a finished product on a substrate ready for assembly to the card. The integrated circuit (IC), also called electronic chip is an electronic component reproducing one or more electronic function more or less complex, often incorporating several basic types of electronic components in a small volume, making it easy to circuit work. There is a wide variety of these components divided into two categories: analog and digital.
Wafer slicing
A chip is a small piece of semiconductor on which an electronic integrated circuit was manufactured. The chips are obtained by cutting semiconductor wafers on which is this electronic circuit obtained by a succession of steps of photolithography, ion implants, thin film deposition or even more electronic circuits.
The term "chip" is used when the manufacturing process is completed and which has been performed the cutting of the semiconductor wafer.
C4 assembly
The bearings (connection with a solder alloy on a plot) are at the heart of the chip connection technologies reversed (flip chip). The electrical connection between the chip and the substrate on which they are assemble is provided by the presence of a conductive microbead on a layer called UBM (Under Bump Metallurgy) that bridges the microbead and the semiconductor circuit. The "Flip Chip" assembly method is therefore to assemble this chip with microbeads on a substrate from a positioning method and a temperature cycle carefully controlled. The assembly recipe is influenced by many settings and components (the UBM, the solder alloy, the kind of substrate, etc.).
Wirebond assembly
The assembly technique of the binding thread (wirebond) is the method of making interconnections usually used between an integrated circuit (IC) and another device which serves as a support. The wire bonding technique is generally regarded as the most cost effective and flexible interconnect technology, and is still used today to assemble the vast majority of semiconductor devices.
Others
Adhesive / thermal paste dispense
Chemical stripper and DI water rinse
Horizontal sputter
Wirebond assembly
Wire bond
Discrete component placement
Wafer Dicing
Tape Expander
Stealth Dicer
Tape Expander
UV expose
Manipulation
Laser ablation 2
Wafer inspection (scanner)
Wafer thinning
Semi-automatic wafer and frame mounter
Taping backside grind
Balling
Ball placement
Balling flux cleaning
High vacuum bake
Transfer system
Underfill
Underfill dispenser
Acoustic microscopy
Acoustic microscopy
Underfill dispenser
Plasma etch
Underfill dispenser
Plasma etch
High vacuum cure oven
Glob top dispenser
Plasma etch
Component placement
Placement
Reflow furnace
Chip placement
X-Ray inspection
Chip placement flux cleaning
Dispenses Flux
Chip placement
Chip placement
Lid attach
Hard Bake
Lid pick and place
Adhesive / thermal paste dispense
Inspection
X-Ray inspection
Flatness-surface shape measurement
Ball pull
Vision system
Acoustic microscopy
Acoustic microscopy
Marking
Laser marker
Ink jet marker