SEMICONDUCTOR ASSEMBLY LABORATORY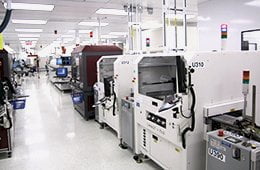 Le C2MI offre une vaste gamme d'équipement permettant de réaliser l'assemblage du semi-conducteur (Advanced packaging) sur un substrat pour en faire un produit fini prêt pour l'assemblage à la carte. Le circuit intégré (IC), aussi appelé puce électronique, est un composant électronique reproduisant une ou plusieurs fonctions électroniques plus ou moins complexes, intégrant souvent plusieurs types de composants électroniques de base dans un volume réduit, rendant le circuit facile à mettre en œuvre. Il existe une très grande variété de ces composants divisés en deux grandes catégories : analogique et numérique.
Slice cutting
Une puce est un petit morceau de semi-conducteur sur lequel un circuit électronique intégré a été fabriqué. On obtient des puces par la découpe des tranches de semi-conducteur sur lesquelles se trouve cette circuiterie obtenue à partir d'une succession de différentes étapes de photolithogravure, d'implants ioniques, de dépôts de couches minces ou encore des circuits électroniques.
Le terme « puce » est employé une fois que le processus de fabrication est achevé et que l'on a procédé au découpage de la tranche du semi-conducteur.
C4 Assembly
Les "coussinets" (connexion avec un alliage de soudure sur un plot) sont au cœur des technologies de connexion de puces inversées (flip chip). La connexion électrique entre la puce et le substrat sur lequel ils sont assemblés est assurée par la présence d'une microbille conductrice située sur une structure de couches de métallisation (UBM – Under Bump Metallurgy) qui fait la jonction entre la bille et la circuiterie du semi-conducteur. Le procédé d'assemblage "Flip Chip" consiste donc à faire l'assemblage de cette puce munie de microbilles sur un substrat, à partir d'un procédé de positionnement et d'un cycle de température soigneusement contrôlés. La recette de cet assemblage est influencée par de nombreux paramètres et composants impliqués (le UBM, l'alliage de soudure de la microbille, le type de substrat utilisé, etc.).
Wirebond Assembly
The wirebond technique is the commonly used interconnect manufacturing process between an integrated circuit (IC) and another device that supports it. The wirebond technique is generally considered the most cost-effective and flexible interconnect technology, and is still used today to assemble the vast majority of semiconductor devices.
[equipment category="laboratory-assembly-of-semiconductors"]