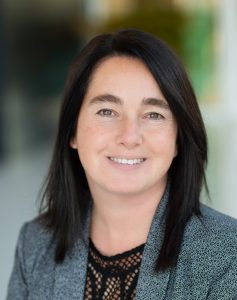 ---
Annie Dallaire has been working in the field of microelectronics, especially in the semiconductor manufacturing field, for more than 20 years. She joined C2MI's team as Director of Business Development in December 2016. Now, Vice-president, Business Development, her role consist, among other things, to developing appropriate strategies for C2MI members and clients, as well as  supporting them through their projects and product development.  She is also one of C2MI spokesperson in many  external technical and scientific events.
She first worked as a process scientist in plasma etching for 9 years at Mitel Semiconductors (now Teledyne DALSA Semiconductors). This position allowed her to acquire a strong knowledge of the CMOS, CCD and MEMS manufacturing processes. She was involved in several process improvement, cost reduction and technological development projects as well as project management.
She was then assigned the management of a group of development scientists within the same company. Annie developed a solid experience in day-to-day operation management, including engineering management with projects focused on capacity expansion, cost reductions, productivity improvement and quality control.
Annie holds a Bachelor's degree in Physics and a master's degree in plasma physics from the Université de Montréal, as well as a MBA from Université Laval.