Service offering
NTS Canada's EMC/EMI Testing Laboratory is a laboratory specializing in electromagnetic compatibility testing for electrical and electronic products. With our experienced staff and operational flexibility, we are committed to providing quality and efficient expertise throughout the registration process of your products. NTS Canada also has a mechanical, environmental and leak testing division to offer you a complete service.
Mission
NTS Canada's EMC/EMI Testing Laboratory is your partner of choice to support you throughout the EMC certification process; from the development of your prototypes, to the proper certification of your products.
We offer a consulting service that optimizes the development time and makes the certification process efficient.
Competence
Technologies and processes:
– EMI receptors
– Electrostatic discharge generator
– EFT Generator
Shock wave generators – OOA generator
– BF disturbance generator
– Programmable power supply
– And many other…
Emission tests: Electromagnetic fields, conducted disturbances, harmonic currents, voltage fluctuation and flicker.
Immunity tests Immunity to electrostatic discharges, electromagnetic fields, fast electrical transients in bursts, shock waves, conducted disturbances, induced by radio fields, magnetic fields at mains frequency, pulsed magnetic fields, oscillating magnetic fields, voltage dips, conducted disturbances in common mode, residual ripple on DC power input, damped oscillating waves, voltage dips, short interruptions and voltage variations on DC power supply access. Translated with www.DeepL.com/Translator (free version)
EMC Standardization Consulting
USA and FCC (Federal Communications Commission) : FCC part 15 and part 18
Canada and Industrie Canada : NMB-003…
Europe and Marquage CE : Directive CEM 2004/108/EC, Directive of terminal de telecommunication or radio 1999/5/EC (RTTE)
Able to carry out your tests for CE marking according to several standards.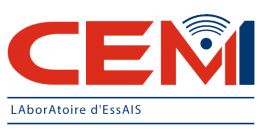 1490-D, Nobel Street
Boucherville, Quebec
Canada, J4B 5H3
---