Service offering
TransferTech is the valorization company of the Université de Sherbrooke. It protects and commercialize inventions resulting from research work. As a result, companies can acquire patents held by TransferTech Sherbrooke, particularly in the field of microelectronics.
Consult the portfolio:
https://www.transfertech.ca/technologies/
Mission
Commercialize the inventions resulting from the research work of the Université de Sherbrooke.
Competence
TransferTech Sherbrooke works to develop links between high-tech companies and professors at the Université de Sherbrooke and its affiliated research centers.
TransferTech Sherbrooke contributes to the development and enhancement of many university technologies and to improving the competitiveness of innovative industries.
We can also assist entrepreneurs and businesses in developing an effective financing strategy and an investment plan adapted to your needs.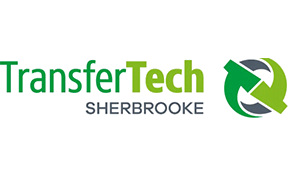 200-35, Radisson Street
Sherbrooke, Quebec
Canada, J1L 1E2
819 821-7961
---
Contact person
Michel Lambert
President - Manager
819 821-7961
m.lambert@transfertech.ca