PHOTONICS TECHNOLOGY DEVELOPMENT
Development of automated assembly processes to support the high-volume deployment of optoelectronic components that take advantage of new photonic technologies.
Development of assembly solutions on automated tools in a manufacturing field (optoelectronics) where assembly approaches are historically very manual. Our assembly solutions use either compliant polymer ribbons or fiber ribbon arrays.
Yield improvement for optical photons chips interconnection assembly processes.
Evaluation of the reliability of compliant polymer ribbons or fiber ribbon arrays.
Development, with a partner collaboration, of the ferrule to polymer interconnect.
Development of automated and high-precision assembly process of optoelectronic chips and lenses on substrate with waveguides.
An optical interconnection using a ferrule on a polymeric ribbon (developed with a partner) is assembled onto a photonic chip using self-aligning structures with an adhesive selected for its optical and mechanical properties. The integrity of the components, the adhesive and the final assembly were tested under the operating conditions (temperature and humidity) of this type of application.
In the case of the fiber interconnection, a modification to the assembly equipment now makes it possible to use only commercially available source components which allows a better yield and a lower cost. The improvement of the control of the parallelism during the assembly made it possible to improve the repeatability of the process.
Thermocompression and assembly processes with UV curing have been developed for the assembly of integrated components on substrates with waveguides.
Illustration of the fastener of a connection of polymeric type on a semiconductor structure.
Illustration of the attachment of a lens to an organic substrate with an integrated polymeric waveguide.
Illustration of the attachment of a conventional fiber optic connection to a semiconductor structure.
Polymeric ribbons: good progress thanks to the new interconnection with the ferrule and the selection of an appropriate adhesive. The optical performance of the assembled elements does not yet meet the target. The reliability of the assembly must be confirmed on a larger sampling. Development work is pursued.
Fiber bands: improved processes, however, the automation of the assembly, the reliability performance of the adhesives used and the optical performance must be improved. Development work continues.
Assembly of integrated components on substrates with waveguides: preliminary development of processes and equipment completed. Waiting for more components to complete the development and to carry out the reliability tests.
IMPACTS OF THE PROJECTS: FINANCED PROJECT - YEAR 2016-2017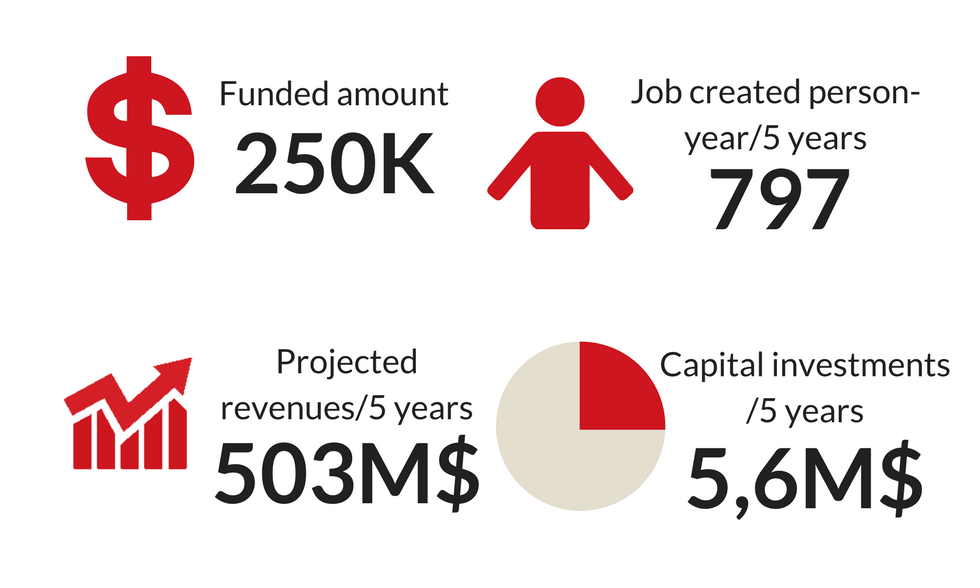 THIS PROJECT IS AN ACTIVE COLLABORATION BETWEEN