ELECTRICAL TESTING LABORATORY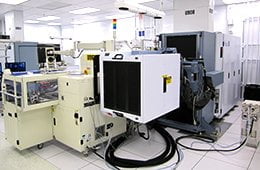 C2MI can perform several types of electrical testing. Electrical tests are performed to ensure the quality and reliability of long-term devices or for collection purposes to eliminate the few devices that are failing or measure and collect information on changes induced by radiation in the characteristics of the component.
Functionality tests
The functionality test aims to eliminate the bad processes in a limited period of time to spare the costs as much as possible. On modern testers, components found on modern testers are tested with a higher parallelism. In other words, components are increasingly tested simultaneously. So, it almost possible to divide the test of time by the number of components in parallel. There is another method to reduce the test time. This is to adapt the component itself in DFT test.
During the test, the components are commonly manipulated by machines called "Handler". Some handlers used to test components at higher or lower temperatures than the room. This ensures the functionality of the part in a wide range of temperature.
Package automated inspection
Automated interconnection mechanical inspection verifies the integrity of the piece, ensuring that it meets customer specifications.
Artificial weathering test
All electronic components are experiencing failures during their lives. Thus, once they have survived for some time, the chances of recurrence are low. Submit components to conditions of extreme temperature and aging can accelerate the onset of their manufacturing defects and ensure proper system operation.
Application engineering
The engineering department offers complete solutions for electrical tests from design to production.
Participation in the application design
Planning of the testing strategy including several design for test techniques
Selection of test equipment and test card design
Redaction of the test program, including the conversion of test vectors
Prototypes characterization
Optimization and production


Test program development
Our experienced technical staff provides a full range of services, including test program development. We understand the different applications and testing requirements, including digitals applications, mixed-signal, high speed, RF, and emerging technologies like 2.5 / 3D and SiPh.
From the test specifications, the test engineer will develop a test sequence to optimize the product quality, performance and cost.
Manufacturing solutions
Mass production is a critical step in the product's life cycle. Throughout the development of the test solution, the engineering team considers the automated solution that will be used in mass production and set up all the tools necessary for this transition. Here is our expertise in manufacturing solutions:
Fully automated solutions
Multi-site programming
Lot management logistics
Returns and Maverick lots management
Capacity management
Test equipment management
Static analysis
Mathematical modeling
Data Mining
Expert systems
Customer returns management
Test programs updates
Testing time reduction during product's life
Others
Migration of test program on different testers
Test vectors conversion
Burnin (products aging)
Application's specific solution (on board test fixturing)
System level Test
[equipment category="laboratory-of-electrical-verification"]