THE ELECTROKINETIC BATTERY
Design, manufacture and marketing of energy storage solutions for industrial electric vehicles.
The forklift mostly use massive Lead-Acid batteries which must provide significant current peaks for the vertical rise of loads and acceleration of the trucks. These current peaks cause many difficulties for the Lead-Acid battery.
The design of the electrokinetic battery incorporates an inertial flywheel for Lithium-Ion cells and offers a very high efficiency of more than 90% resulting in a direct energy saving of 29% for the customer. The Battery Management System (BMS) enables safe management, continuous equalization and high cycling of lithium energy cells (> 2000 cycles). This same controller monitors the state of charge and the overall health of each of the cells in the battery. In addition, the battery is equipped with an integrated intelligent charger that frees customers from the "charger – battery" dependency while relieving the risk of loss of warranty due to incorrect connection. Specifically, the battery plugs directly into a standard three-phase AC outlet. Since the battery is sealed and thermally self-regulating, no maintenance is required. The bunker battery room ("explosion proof") is no longer required, as there is no release of hydrogen to the recharge. All water and acid filling systems can also be removed. The battery is equipped with a WiFi module allowing remote monitoring of all subassemblies. A user interface allows complete management of the online trolley fleet on the IngéniArts cloud. The battery is designed for fast and timely charging. It reduces the risk of accidents when changing batteries, as it eliminates the necessary accessories for loading (hoists, specialized handling equipment, shelves, etc.). Finally, the battery is designed so that there is no electrical or mechanical modification to be made on the existing forklifts.
Creation of an R & D team to develop the first product based on patented technology and the laboratory prototype.
Complete the financing required to ensure the company's continued success in the commercialization of its products through innovative business models.
Creation of a marketing team to begin sales in North America.
Generation of intellectual property on electrical energy storage solutions.
Establishment of a local production line.
Creation of a manufacturing ecosystem with local suppliers.
IMPACTS OF THE PROJECT 2014-2015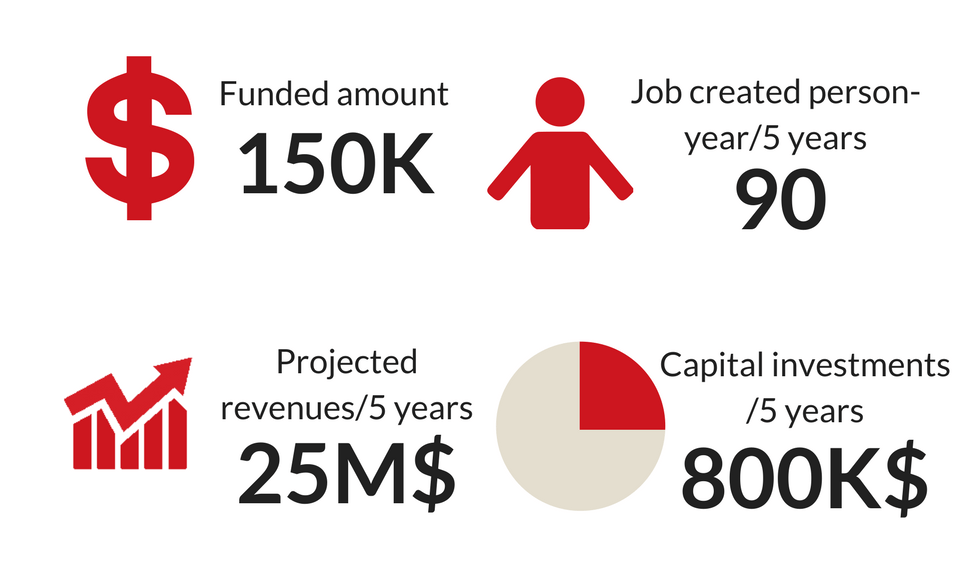 THIS PROJECT IS AN ACTIVE COLLABORATION BETWEEN